Sunny Bunny's Children's Adventure Programme
At Hotel Sonnenpark, the little guests are welcomed by a very special host:

Sunny Bunny, the loveable bunny with the sunny disposition and his team accompany their friends through a multi-faceted children's adventure programme. You will see that it's not always that easy to pick from the many adventurous activities Sunny Bunny hosts.
Care hours:
SUNNY BUNNY CLUB in the hotel
childcare for Kids from 2 years
08.30 am. - 10.00 am.
12.00 am. - 13.30 pm.
17.30 pm. - 20.00 pm.
BABYS in the hotel
babysitting for Babys from the 3. month
Registration at the reception!
10.00 am. - 11:30 am.
15.30 pm. - 17.00 pm.
18.00 pm. - 20.00 pm.
A range of various free daily exercise and animation programmes make sure that the word "boredom" is entirely unknown at Hotel Sonnenpark and Sonnentherme.
You can find the current detailed programme here learn more
(subject to change at short notice!)

Children's programme Themed Weeks 2021
So that you and your parents can plan your holiday at Hotel Sonnenpark in good time, Sunny Bunny and Pinky Bunny give you an overview of the Themed Weeks and programmes 2021. (Subject to changes)
News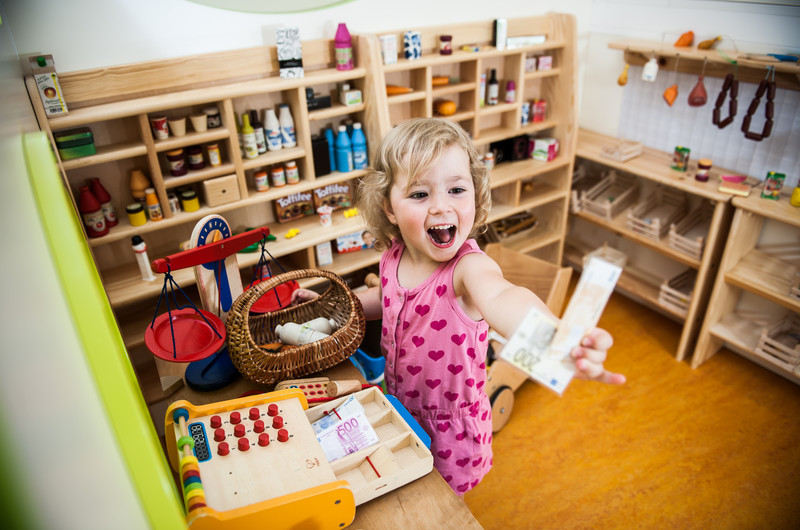 Sunny Bunny Club
Together with Sunny Bunny, playing, crafting and letting off steam is even more fun and the opportunities are endless! The Sunny Bunny Club on the ground floor – the playing paradise for all children between the ages of 2 and 8 – offers a comprehensive entertainment programme and first-rate childcare 7 days a week. Its merchant shop is a particular highlight!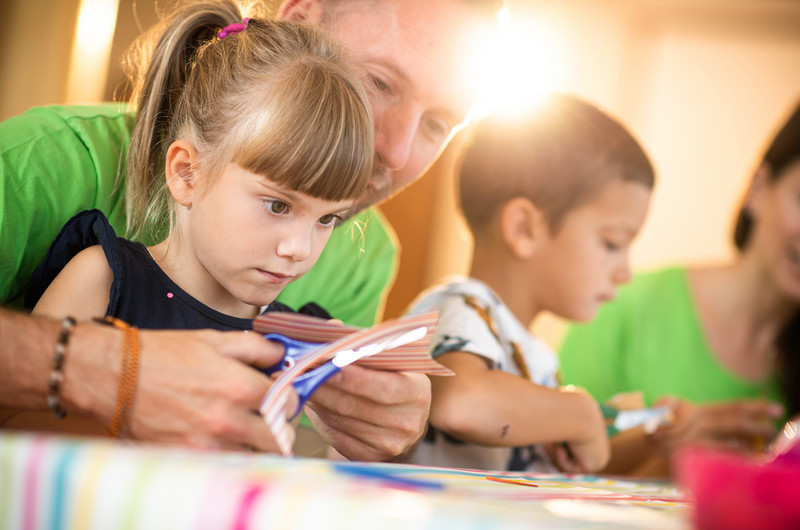 Childcare
Monday - Sunday: 8:00 am - 10:00 pm
and 5:00 pm - 8:00 pm
You are welcome to bring or pick up your child at any time during childcare hours. In all locations (hotel & hot springs) your child will of course be accompanied by our entertainment team.
There is no supervised lunch, drinks are available for children at all times.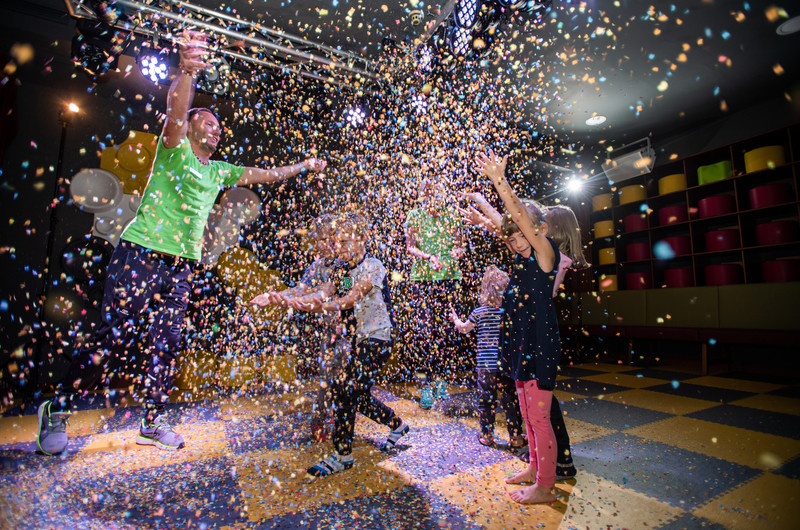 Children's Theatre
Mega theatre and disco fun.
Colourful disco lights, confetti machine and modern sound technology make children's eyes shine. During the children's disco your little ones can let off steam in style. There's also a children's theatre tage. Punch, Clown & Co enchant the children with their performances. In the evening then, all kids can calm down during the daily children's cinema.
Offers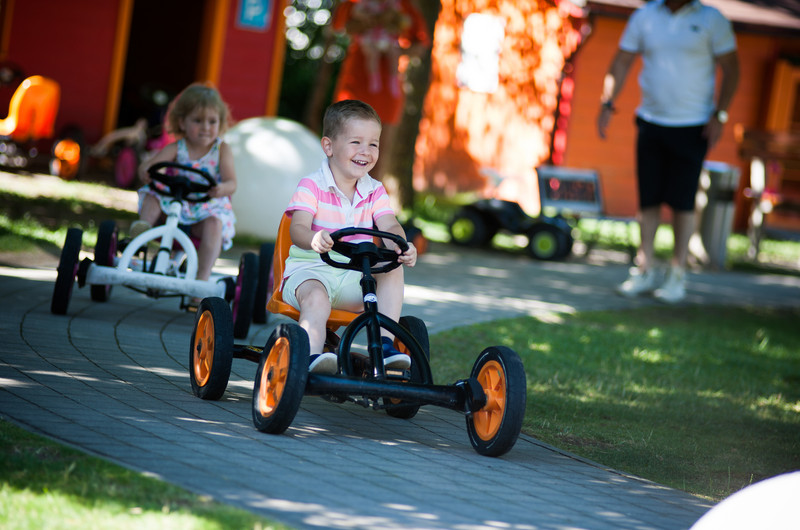 Outdoor Playground
A spacious garden with a playground is located right next to Hotel Sonnenpark. Organically cultivated herb, vegetable and nibble beds offer comprehensive sensory experiences in the organic garden.
Furthermore, the extensive park offers:

• a bunny enclosure
• adventure playgrounds
• a bouncy castle
• mega fun & action in the climbing park
• and much more.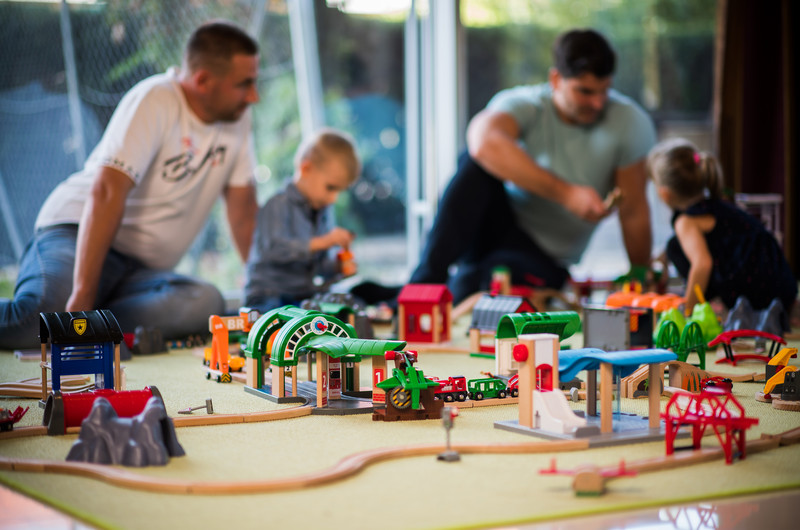 BRIO Room
Wooden railway tracks as far as the eye can see. Petrol station, helipad, crane, construction site and much, much more. There the kids have fun and the childhood memories of the adults are awakening.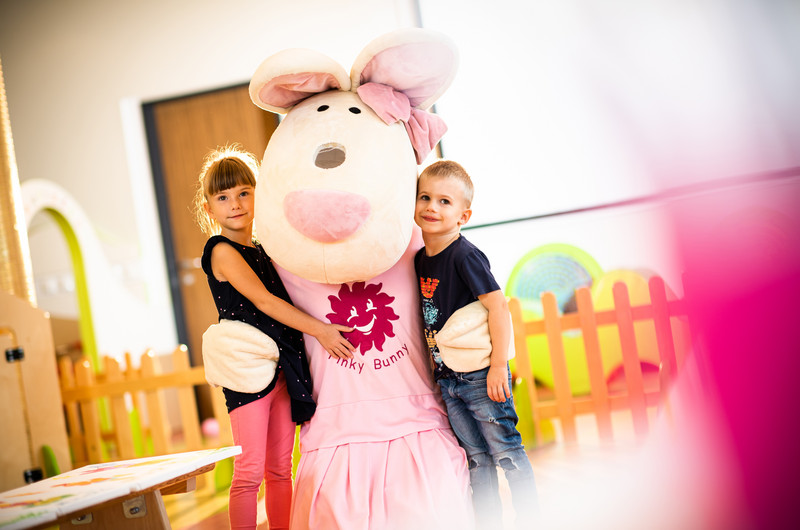 Children's Programme Themed Weeks
So that parents and kids can plan their holiday at Hotel Sonnenpark in good time, Sunny Bunny and Pinky Bunny will give you an overview of the Themed Weeks and programmes.
(subject to change).
Have fun and see you soon!
Fit & Fun Club
With a slide, get from the lobby directly to the Children's Adventure World and the Fit & Fun Club, recommended for children from 3 to 10. In this exercise room, they can move around and let off steam on their own.
It also offers children and parents a gaming one with
Table tennis
Pool billiard
Darts
Arcade machines & co.
for free gaming fun.